WHAT IS A WATCH WINDER?
Watch Winder is a device that keeps self-winding automatic watches running when not worn. They are a popular, necessary tool for watch collectors. Automatic watches use mechanical movements, powered by a rotor or weight that uses gravity and the constant motion of the wrist.
Features:
【Convenient LCD Touch Panel & Display Screen】a very simple and clear LCD screen controls the device precisely and smartly with a backlight. You can set the rotation and know its current status easily even in the dark.
【Noise-Isolating Dual Quiet Motor】MABUCHI belt-driven motor system which is extremely quiet and long-lasting uses winds two watches individually.
【Independent Motor to Each Watch for Better Work】The motors are working separately with different direction (clockwise, counterclockwise, or bi-directional) & TPD mode, which provides a more professional, precise and customized winding for each watch inside. Specially designed for those delicate and heavy watches, and keep them a silent and smooth running without overloading.
【12 Modes Available For choose】4 TPDs - Turns Per Day ( 650-990-1300-2000 TPD and 3 kinds of directions (clockwise, counterclockwise, both) can be separately set, which make this product have 12 Modes available for setting, can be suitable for almost all watches in the market. Each TPD has the same rotation speed but different interval times. It turns at regular intervals to keep the automatic wound and accurate when not on the wrist.
【What You Will Get】18 months Warranty and Technical service
Description:
1. More Than Just Watch Winder, It's Work of Art: Deluxe piano baking varnished box with brilliant finishing and luxurious design. Metal Hinges are sturdy and high quality. Every watch winder experienced 21 procedures of 100% handmade work to be assembled. We took each process in strict control and multiple inspections to present you with this exquisite winder.
2. 12 Rotation Modes Broadly Wind Your Watch: Upgrade Version have two knobs separately control direction and TPD. Combined with clockwise, counterclockwise, and both directions for your choice. Fit for almost 98% automatic watch, Choose the best option to avoid not enough winding and over-stressed winding. Operated by either AC Adapter(included) Switch on power, then the cup inside the box begins to rotate. With Its impact size, you can take it to travel.
3. No Noise, No Annoying Winding Sound: With upgrades panel and the extremely quiet Mabuchi motor make sure long usage time and quieter running. This watch winder can be put on anywhere especially bedroom and office day and night.
4. Support Both Small And Larger Watch Size: The soft pillow is fit for small or big watches that reach 60mm cover and straps. Don't worry it would not hit and scratch the acrylic window.
5. Zero Magnetization & No Harm: Keep your watch accurate and secure. Anti-static treatment is done for the motor & circuit boards, velvet decoration is used for the interior to eliminate magnetization and harm to valuable watches.
6. Please Pay Attention: Following different TPDs(Turn Per Day) control, short and regular stop and continue to rotate during running will happen. Not means the watch winder is broken or stopped.
Package:
1* Watch Winder
2* Foam Cushion
1* Key
1* User Manual
1* Wiping Cloth
1* AC Adapter
1* Warranty Card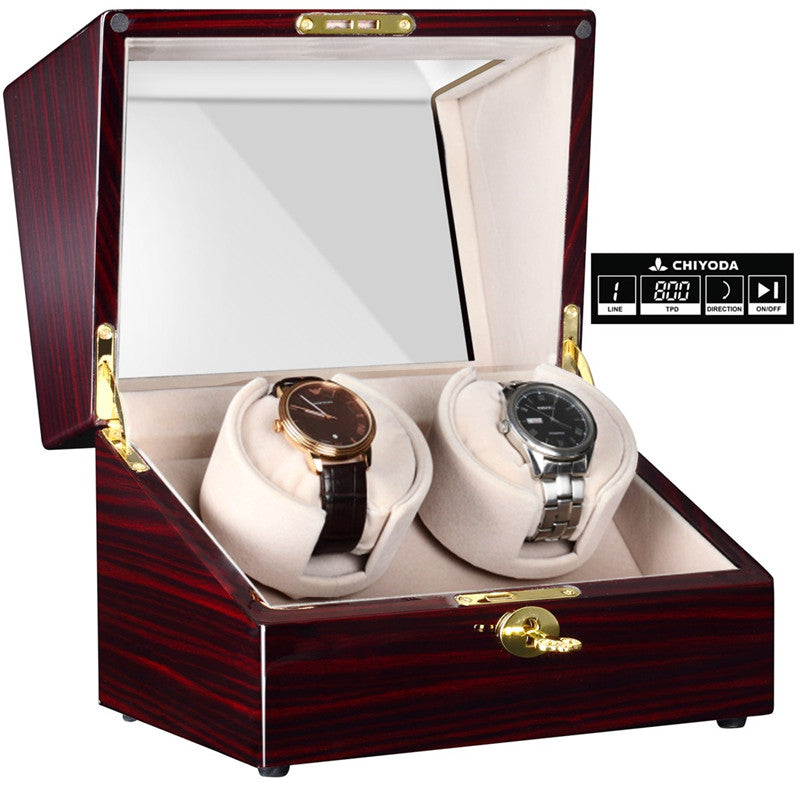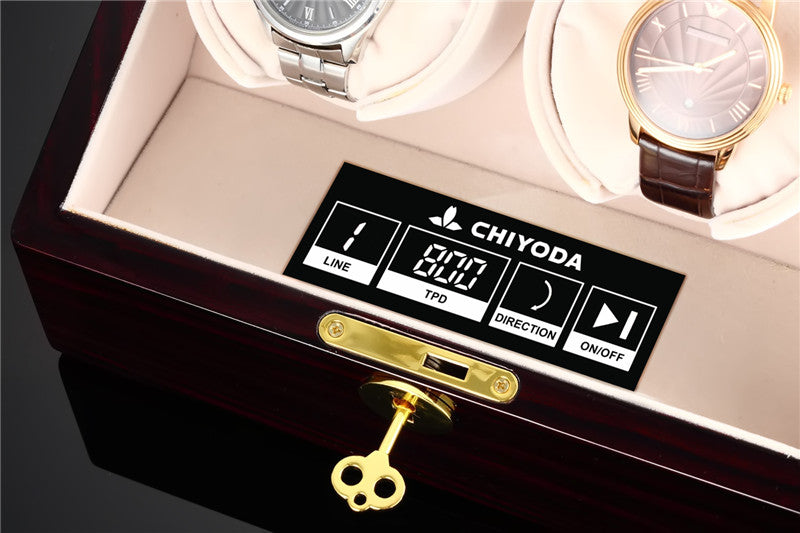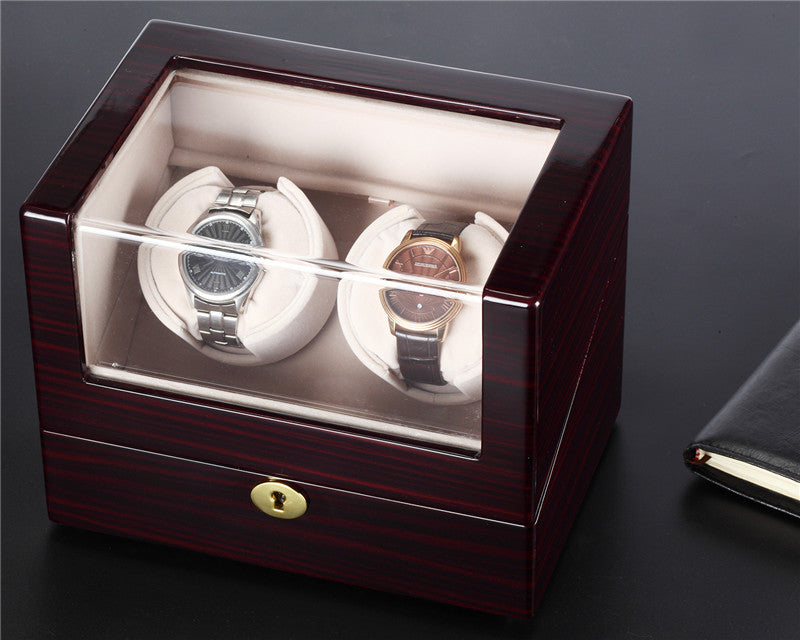 A. Ship From UAE Warehouse
Standard Shipping
Handling Day: 1 business days, Arriving Day: 5-7 business days

Cost: Free

Country/Region:UAE
B. Ship From Sourcing Place
Standard Shipping
Handling Day:1-3 Business Days, Arriving Day: 15-45 Business Days

Cost: Free

Country/Region:Sourcing Place

COVID-19 | Shipping

As the world adjusts to the impact of the coronavirus (COVID-19), shipping is inevitably affected. Every country and region is facing shipping delays of various degrees. ECVV.TN team will do our best to keep you updated and informed about your order during this time as new information becomes available.

Regions heavily affected by the pandemic will be subjected to possible delays. Thank you for your understanding and we apologize for any inconvenience this may cause you.

If you have any questions or concerns about your order, please email us at support@ecvv.com and our team will be happy to assist you, 7 days a week.
Shipping FAQ

1. When will I receive my order?

For Standard Shipping from UAE warehouse: Most items are usually shipping in 5-7 business days.  For Standard Shipping from Sourcing Place: Most items are usually shipping in 15-45 business days. We do recommend allowing up to 3 weeks for your order in peak times, such as a special offer or promotion.

If your order is backordered or not shipping for two or more business days, please feel free to contact us immediately at our Support Center: +971 4 570 9887  and we will do everything we can to accommodate your request.

2. How do I track my order?

Your delivery confirmation email will contain your tracking number and order details.

3. Taxes and other charges?

Depending on the country of delivery, you may be required to pay extra tax or charges such as VAT and/or import duties.

4. About the Shipping fee?

Standard Shipping is free shipping.




ECVV.TN guarantees free returns and replacements service if you are not 100% satisfied with our products. Kindly return the purchase for a refund up to seven (7) days from the date of the order delivered. If you have any problem with the item please feel free to contact us immediately at +971  4 570 9887.
Returns Process.
Please contact us if you want to return an item. Return without prior discussion and authorization will not be accepted.
When returning a product, please do the following:
Please email support@ecvv.com we will keep you updated by email.
Please put a form inside your returned package with: the reason for return, the purchase date, the original invoice number, and the item number for the product.
Proof of purchase from ECVV.TN is required for all returns.
Ship the package to the designated address, the address will be provided by email after your return application is submitted.
Please prepay shipping – ECVV.TN does not accept Cash on Delivery (C.O.D.s).
Request For The Returned Items.
Items received unused (without the smell of perfume), unwashed, not in damaged or worn condition (only when the items are defective or damaged upon receipt).
Items received in original packaging and would not make any influence for second-sale.
Non-returnable items.
Custom items or designated sourced products
Emergency response items
Items Marked "Non-cancellable: and/or "Non-Returnable"
Product is slightly used or altered
Product is damaged due to misuse/overuse
Return and Refund Process
Once your return is received and inspected by the fulfillment centers (usually within 3-5 working days of receipt), your refund will be processed and a credit will be automatically applied to your original method of payment within 15 working days.
ECVV Cancellation Instructions. 
Due to the speed we fulfill your requests, we are unable to cancel orders for immediate shipment. If your order is backordered or not shipping for two or more business days, please feel free to contact us immediately at our Support Center: +971 4 570 9887 and we will do everything we can to accommodate your request.
Replacements
You can replace an item if your replacement meets certain criteria.
Shipped to a delivery address within United Arab Emirates
Shipped and sold by ECVV.TN
Not an Add-On item
Not marked as a gift
Wasn't purchased with a promotion (except for free shipping promotions).
Note: In most cases, you are required to return the original item received for a Replacement. You'll need to return the original item with the guide of ECVV.TN Support Center to avoid being charged for both the original and replaced items.